---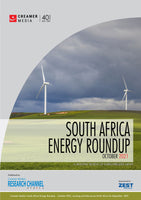 Creamer Media's Energy Roundup is a monthly report providing a synopsis of energy-related news from South Africa.

The October 2021 roundup covers activities in September 2021 and includes details of State-owned power utility Eskom's Renewable Energy Tariff pilot programme to assist businesses that have corporate renewable-energy commitments; the National Energy Regulator of South Africa's rejection of Eskom's fifth multiyear price determination application for the three financial years from 2022/23 to 2024/25; and local renewable-energy supplier Suntech Solar Power South Africa's launch of proceedings in the High Court seeking to interdict and set aside the "selective and unlawful" exemptions granted by the Department of Trade, Industry and Competition in respect of the current round of the Risk Mitigation Independent Power Producer Procurement Programme.
The report is a summary of information published in Engineering News & Mining Weekly, as well as of information available in the public domain, and does not purport to provide an analysis of market trends.
Published on: 06 October 2021.