---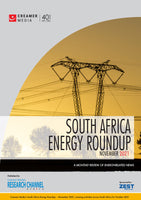 Creamer Media's Energy Roundup is a monthly report providing a synopsis of energy-related news from South Africa.
The November 2021 roundup covers activities in October 2021 and includes details of State-owned electricity utility Eskom's reliability maintenance recovery programme; Eskom's joint venture with coal miners Exxaro and Seriti Resources to develop renewable-energy projects; and the growing constraints on South Africa's power grid, which could precipitate a crisis similar to the one experienced in 2008.
The report is a summary of information published in Engineering News and Mining Weekly, as well as of information available in the public domain, and does not purport to provide an analysis of market trends.
Published on: 10 November 2021.